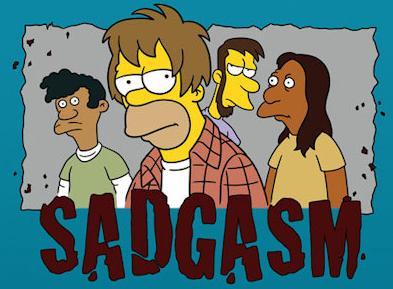 Through either time or inclination, Seattleites have largely abandoned grunge. I found this out soon after moving here when I went to a show where the band were heckled for doing a Nirvana song just because they were "in Seattle after all". So you can imagine my surprise when I started to hear more and more about an Olympia-based band called Naomi Punk whose inspiration is, in part, derived from that lineage.
The band, which recently moved from Seattle's own
Couple Skate Records
to the excellent
Captured Tracks label
, does have many of aforementioned grunge fixins, such as simple, chord heavy and distortion-rich melodies. However, somehow they manage to avoid its pitfalls. For one thing, while the songs are heavily distorted, they don't insult your intelligence by using tacky song structures filled with predictable "this is the chorus" style pandering. Instead they crash along, injecting just enough of their art-punk influence to create music that feels personal and relevant, but without that annoying insistence that you become depressed or fill your closet with flannel.
The Feeling
has just been re-released on Captured Tracks and Naomi Punk will be playing alongside Texas'
Parquet Courts
and Olympia's
Sick Sad World
at Cairo Seattle on the 19
th
of this month. Enjoy the video for "Burned body" below.